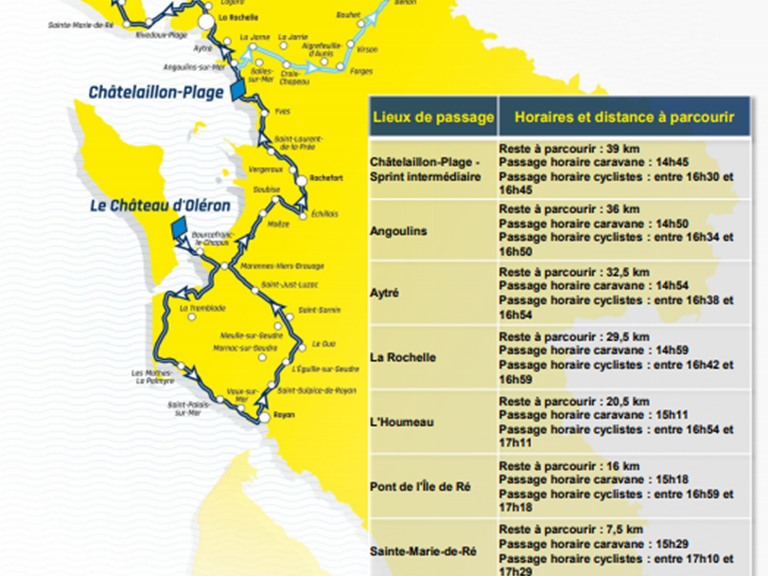 29 Jun 20
The Tour de France is a stopover in Charente Maritime!
In September, experience a first in the history of the Tour de France with an island-to-island stage. In all these are 3 days of celebrations to welcome this great cycling race!
3 DATES TO REMEMBER: SEPTEMBER 7, 8 AND 9, 2020
As you know, Charente-Maritime has been chosen for the Tour de France 2020, one of the biggest international sporting events.
This legendary sports race is the most important and prestigious of the road cycling events. It is followed each year by 15 million viewers at each stage in 190 countries.
On the program for these 3 days:
Monday September 7: it's the runners' rest day and the opening of the Fan Park
Tuesday 8 September: stage 10 "L'Échappée Maritime" which links the Île d'Oléron to the Île de Ré.
170 km of race, departure from Château d'Oléron, arrival at Saint-Martin-de-Ré
Wednesday September 9: start of stage 11 from Châtelaillon-Plage to Poitiers.
THE FAN PARK®, A SPACE FOR BIKE LOVERS
Come together with family and friends at Châtelaillon-Plage for 3 days of entertainment from September 7 to 9, games and challenges in the colors of the Tour de France.
STEP 10: "THE SEA BREAK": 170KM, 33 COMMUNES CROSSED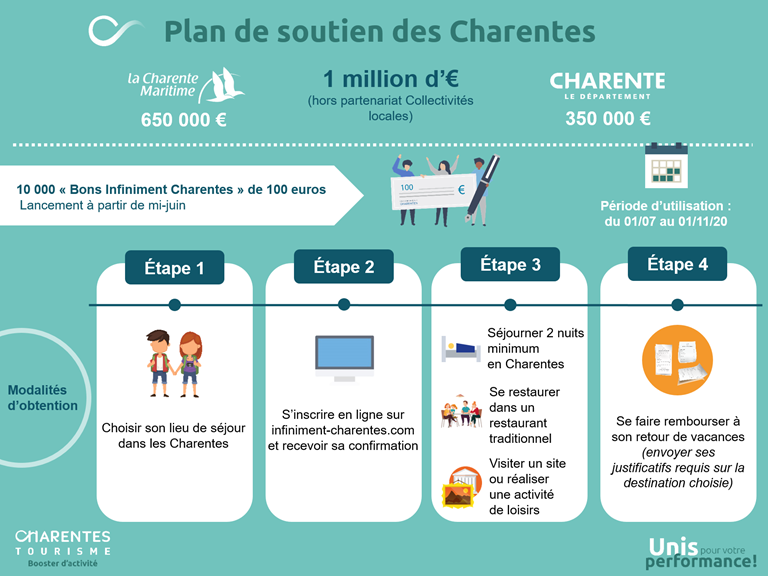 29 Jun 20
"Infiniment Charentes" vouchers worth € 100
10,000 ""Infiniment Charentes"" vouchers of € 100, or
million €

for holidaymakers without conditions of income or provenance,

staying in Charentes from 01 | 07 | 2020 to 01 | 11 | 2020

After choosing their destination in Charentes, future beneficiaries must:

stay at least two nights in merchant accommodation,

have a meal in a traditional restaurant,

discover a leisure activity or a visit site

The 100 € will be paid upon their return after sending the supporting documents.

https://www.infiniment-charentes.com/bons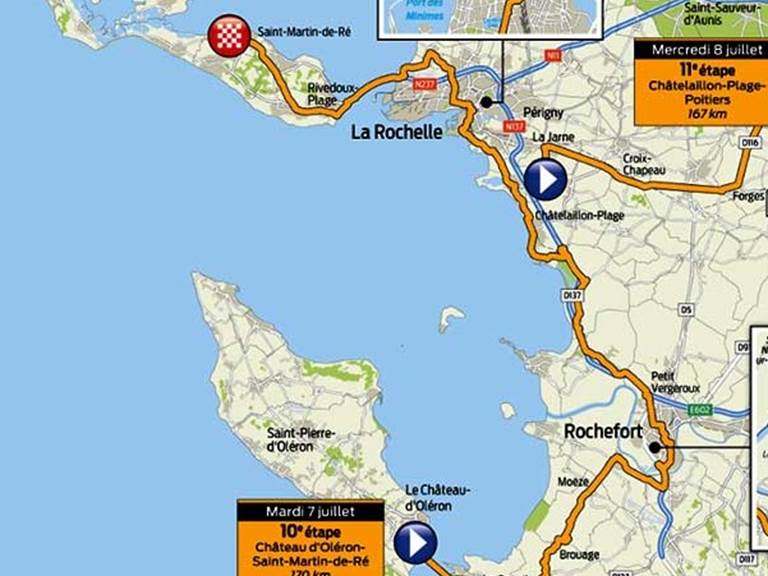 23 Feb 20
Tour de France 2020, a three-day stopover in Charente-Maritime
The Tour de France will take place this summer, but two months later than planned.
The Tour de France 2020 departs from Nice on Saturday 29 August with two stages in Nice and the surrounding area, then seven stages including the last Pau-Laruns on Sunday 6 September, then transfer to La Rochelle for the rest day of Monday 7 September.

Tenth stage (Tuesday September 8): Île d'Oléron / Le Château-d'Oléron> Île de Ré / Saint-Martin-de-Ré
A 170 km stage, an original route between the two islands, Île d'Oléron and Île de Ré.
The caravan and the runners will take the Oléron bridge and head south for a loop which will lead them through the towns and seaside resorts of Bourcefranc-Le Chapus, Marennes, Pont de la Seudre, La Tremblade-Ronce-les- Bains, La Palmyre, Saint-Palais-sur-Mer, Vaux-sur-Mer, Royan before heading north, Saint-Sulpice-de-Royan, Mornac-sur-Seudre, L'Eguille-sur-Seudre, Le Gua, then the right bank of the Seudre, Nieulle-sur-Seudre, Saint-Sornin, Saint-Just-Luzac, Marennes, then direction Rochefort by Brouage and Moëze, Charente bridge, Yves, Châtelaillon-Plage, La Rochelle and finally Île de Ré bridge, Rivedoux-Plage and arrived in Saint-Martin-de-Ré.


Eleventh stage (Wednesday September 9): Châtelaillon-Plage / Poitiers
A stage of 167 km: It is over with the seaside. The Tour 2020 now departs from the coast and the breakthrough in the territory will take the riders into the Marais poitevin.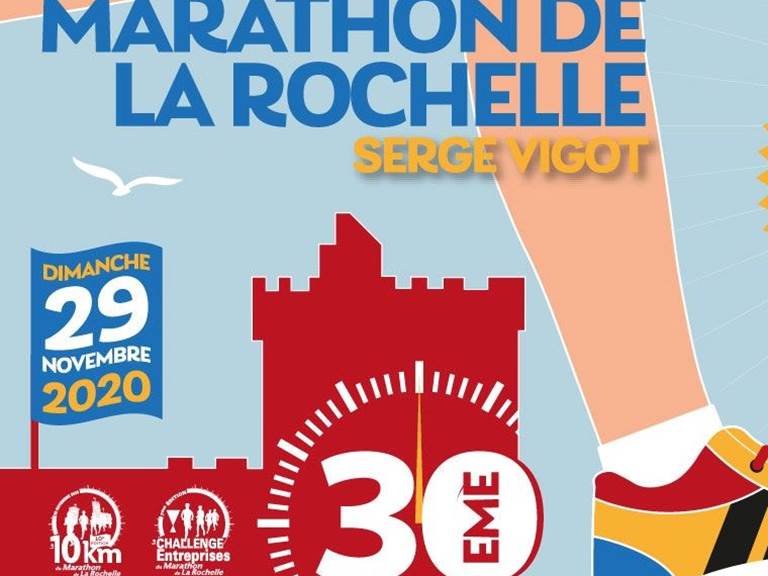 03 Feb 20
2020 Marathon in La Rochelle: Sunday November 29
2020 is a special year for the La Rochelle Serge Vigot Marathon: 30th edition of the Marathon, but also 10th edition of the 10km, Sunday 29 November.
On this occasion, the 10km route evolves and becomes even faster. The icing on the cake: the last kilometer will be on the marathon course! After passing under the big clock, the runners will enter the Old Port and arrive at the feet of the La Rochelle Towers.
Do not delay registering: whether for the Marathon or the 10km, the enthusiasm is already being felt!
http://www.marathondelarochelle.com/index.php/fr-fr/